Stay Up To Date With Us!
We will never spam you or share your email address.
Game Sound Design Strategies
GSD Strategies
Check out the gamesounddesign.com strategies when you are feeling creatively uninspired. Each random strategy will present you with a new avenue to pursue. Give them a try!
Game Sound Design Glossary
GSD Glossary
Our game audio glossary has all the sound terms you have been wondering about. Game audio can be confusing enough without having to deal with a new technical language. We are constantly updating the database with new terms that relate to not only game audio but game developer terms as well.
Review: Korg Monotron Synth
Article by George Spanos
The Korg Monotron is a small (6"x3") analog ribbon synth. Because of its small size you can carry it with you anywhere? and believe me you'll want to. If you are anything like me this little synth will become addictive fast. I'm a sucker for cool little toys that make electronic blips and bleeps. Let's face it, if you enjoy messing around with tone generators and oscillators you'll love this synthesizer.
Lots of Features
For around $60 you too can get in on the Monotron pocket synth. Based around an analog design and sparse controls (but enough!) the Monotron is pure tweaking satisfaction. Based around the analog filter found on Korg's MS-10 and MS-20 synths, it incorporates separate synth building blocks. Controls to alter the LFO's rate and intensity as well as separate cutoff and peak controls for the VCF are included. The rate control also features a LED that blinks in time with the rate that you set... trippy.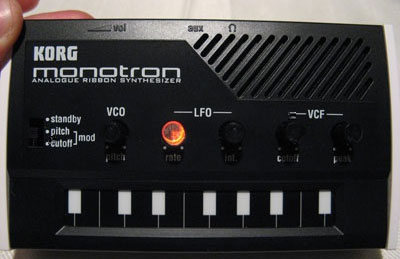 Also included is an auxiliary input jack that enables you to modify any sound source you choose. Say, for example, another synth's output or the output of your ipod/iphone. There is a built in speaker as well as a headphone jack that doubles as an audio output to connect to a mixer or to your audio system. In fact, with a price of $60 I just might get another one to daisy-chain two of them together.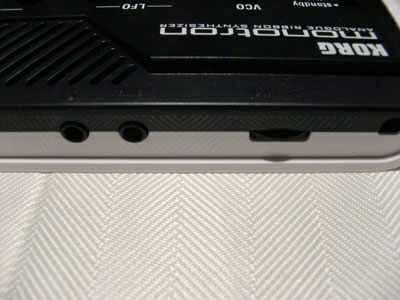 Portable Fun
So what does this unit have to do with sound design? Everything. Especially if you are into creating spacey, retro, or weird sounds. There are a ton of possibilities and playing with it never gets old. Controlling the filters via the little ribbon keyboard is relatively easy though not entirely accurate. Then again, the pitch is not always accurate either as it is prone to pitch fluctuations based on the ambient temperature of the room you are in. This does make creating sounds with it more exciting, however. You're not always guaranteed the exact same sound with the same settings. But that's the charm of the unit.
So how does it sound? Well, very good actually. Even listening to the output of the mini speaker is fun and not too prone to crapping out (except at very high filter settings). Actually, I don't really have anything bad to say about this little unit except maybe the build quality is not top of the line... we shall see what kind of abuse it can take especially since it is portable. At the end of the day though, this price point won't leave you feeling ripped off. Exceptional value and highly recommended (no, Korg is not paying me). Instead of describing the sounds I was able to produce with the unit I have included a video. Enjoy!