Stay Up To Date With Us!
We will never spam you or share your email address.
Game Sound Design Strategies
GSD Strategies
Check out the gamesounddesign.com strategies when you are feeling creatively uninspired. Each random strategy will present you with a new avenue to pursue. Give them a try!
Game Sound Design Glossary
GSD Glossary
Our game audio glossary has all the sound terms you have been wondering about. Game audio can be confusing enough without having to deal with a new technical language. We are constantly updating the database with new terms that relate to not only game audio but game developer terms as well.
How To: Record Whooshes and Swishes
How do you create that fast whoosh sound of your character's sword for the video game you are currently working on? What if you needed a whoosh sound of an F1 race car flying past the camera? Well, the answer is not so cut and dry of course, but one thing that is a great starting point is to record whooshes and swishes with various easy to find objects.
In fact, whooshes can be so useful you'll wonder how you designed so many sounds without them. Of course, there are a number of whooshes in commercially available sound effects libraries, but they are often overused and you would be surprised how many different tonalities you can achieve by recording your own.
Setup
So first things first. You will want to gather a good amount of objects that you think would make good candidates for your whooshes. Scour your basement, the garage, dollar stores, and your parent's shed. Some great objects are: golf clubs, a cheese grater attached to a string, plastic shelving, a kid's butterfly catcher, a tarp, long metal and plastic tubes of different diameters, wiring, tennis rackets, and spatulas. Pretty much anything you can think of is worth a shot.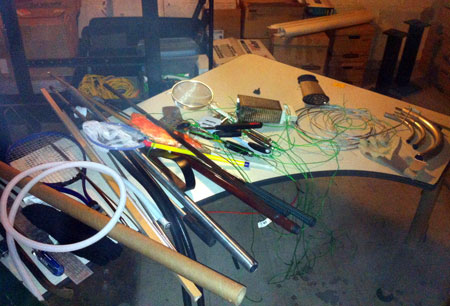 You'll want to tie a long piece of string to the smaller objects so that you can swing them in the air. As for microphones, we used a pair of Sennheiser MKH 416 shotguns. One of the mics had a Rycote windshield around it while the other 416 just used the foam windscreen that is shipped as standard with the mic. Experiment with different placement and with different swinging techniques. One thing to watch out for is proximity effect. Because you will be swinging objects and creating wind drafts, your microphones might pick up extraneous noise. Either back off the mics a bit or rolloff the excess proximity at your recorder. You will also need to source out a location that has tall enough ceilings because you will be swinging things above your head and in front of you. Wearing gloves is also a must. If you will be swinging objects around that are tied to rope or string it will cut through your hands pretty quickly if you're not wearing gloves.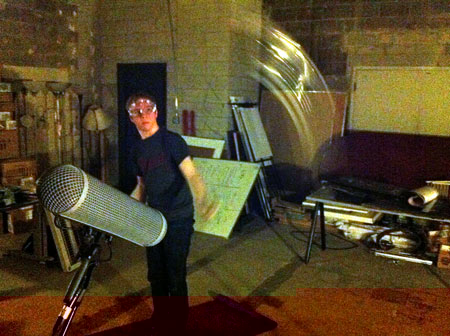 This last tip is perhaps the most important for a successful whoosh recording session. Watch out for outside noise. Because you will have to turn up the gain on your recorder quite a bit for the quieter whooshes, you will need an extremely quiet room. Even things you may not normally think about when recording can have a huge impact on achieving desirable results. Noise emitters like air conditioning units, fluorescent lights, and other hums from electronic equipment can quickly add up when recording whooshes and swishes.
Of course, recording with extremely quiet and high headroom preamps is also a must. We recorded one session with a Zoom H4 and didn't achieve great results. While the Zoom is a great little unit, it is best suited for quick recordings when you're not in a studio environment. We were also in a basement that had some outside noise bleed through.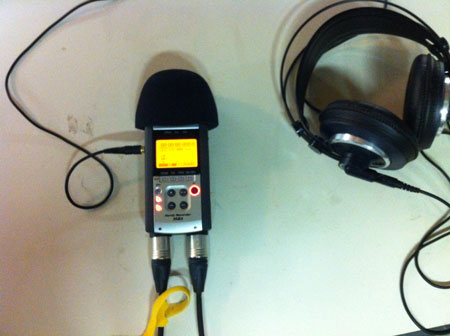 The Second Session
After that first session we purchased a Sound Devices 722. We will be providing a full review of the 722 on the site soon. Suffice to say though, that the 722 exceeded our expectations for the second recording session. High headroom and very quiet preamps are a standout feature of the unit and it did not disappoint.
So with the Sound Devices 722 and our two Sennheiser MKH 416 mics, we set out to record another session, this time in a quieter room. The results were infinitely better than the first session. Very little bleed through of outside noise onto our quiet whoosh recordings and transparent preamps. Well worth the extra effort. We actually re-recorded many of the whooshes we attempted to record during the first session. Plus, we were better attuned to mic placement this time around, having done it once before.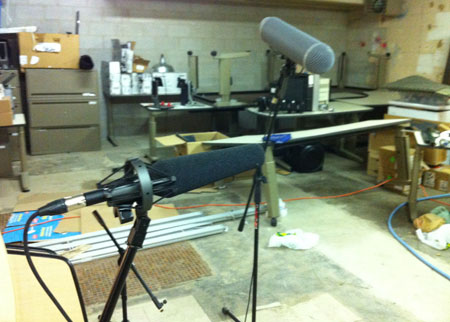 That is how you learn and what makes this job so much fun... experimentation. If you get it wrong the first time, learn from your mistakes and try again. Chances are you will get great results the second time around. Don't be afraid to learn from your mistakes.
Take a look at the video and listen to the sample sounds below. Let me know what you think of this article in the comments!
The audio in this video is from the camera only.
Items we recorded:
-Potato masher
-Strainer
-Butterfly catcher
-Duster
-Spatula
-Metal pipe
-Hollow plastic pipe
-Door trim